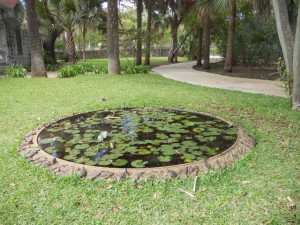 The cast iron pond near the cottage is historic.  It is striking in appearance with an array of wildlife forms cast into the exterior design.
Many lily ponds grace the grounds of Mayfield Park. The 6 large cement ponds are arranged in the general shape of a flower.
Note the center circular pond is surrounded by 4 oval shaped ponds (the petals) along with one hourglass pond that contains a small waterfall (the stem).
Look for turtles in the all the ponds.
The ponds are habitat for a variety of fish, turtles, frogs and snakes.  It is common to see herons stop by to feed on the fish.  The small green herons nest at the park, and raise their young there.
NOTES: Although it may be tempting to feed the aquatic wildlife in the pond, it is strongly discouraged as it disrupts the balance.  The fish are fed by the Mayfield Park caretakers.
Volunteers help tend the ponds.   If you would like to help with pond maintenance (such as skimming the ponds, planting lilies, cutting dead stems) stop by the volunteer gardening workday held on the second Saturday of each month and talk with our volunteer coordinator.  Thanks!